Terms and

conditions
The shop www.lofina.dk is owned and operated by Lofina ApS, CVR-nr. 27656250, Volden 12, 8000 Aarhus C, phone number +45 86120060, info@lofina.dk.These terms and conditions are used when buying goods at www.lofina.dk. Does not count for Greenland and Faroe Islands unless anything else is agreed.
Ordering and payment
You have to be 18 years to pay products at www.lofina.dk with a valid credit card. If you are not yet 18 years old, you need your guardians except of the buy.You choose what to buy and press the "basket" button. You can change the product until the checkout time. Extra payments like delivery and credit card fees will be calculated before you are ready to pay.
When you are ready to make an order, you press "basket", then you fill out your name, address, e-mail, phone number, type of payment and type of delivering. It is possible for you to change your basket or your information until you press "order and pay". Now you made your order and the staff of Lofina will work it out.
Are you shopping from Great Britain? Please be aware that Lofina can only send orders to Great Britain for a minimum amount of 135 Pounds. Because Lofina does not yet have an english VAT-number, we cannot send order for less than 135 Pounds. We apologize for the inconvenience.Shipping
For orders placed and sent inside of EU, the general rules for shipping applies.
For orders placed and sent to countries outside of EU, following rules applies:
The consumer has to pay the VAT applied in the country where the order is being delivered to. The danish VAT of 25% will be deducted on the final invoice, and Lofina will only deduct the amount exklusive the danish VAT.
The outstanding VAT has to be paid directly to the shipping company, who will contact the consumer, within five weekdays after the order is shipped. If the shipping company does not contact the consumer within five weekdays, the consumer should contact its local shipping company's office. If the VAT is not paid, the order will be returned to sender. For more information and assistance, you are always welcome to contact Lofina customer service on info@lofina.dk.
Freight costs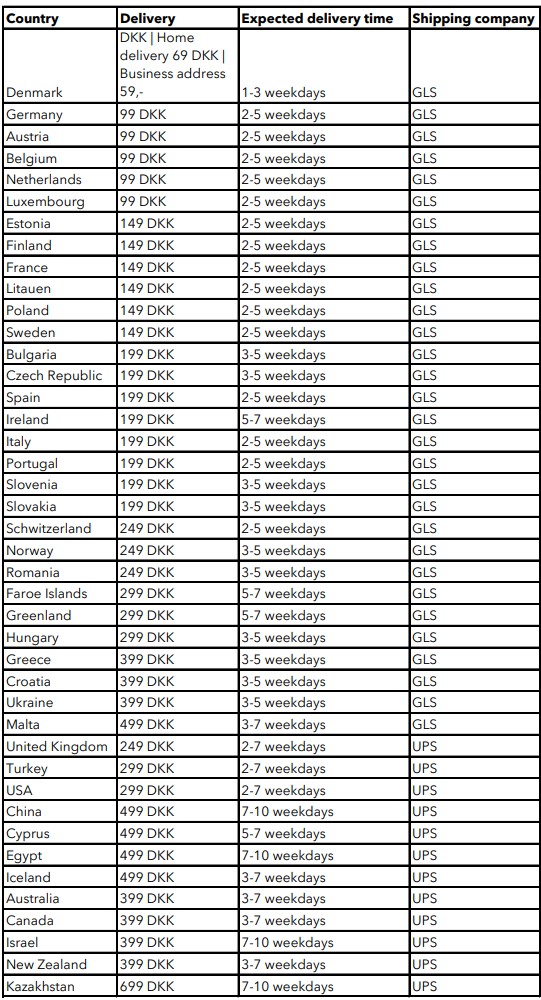 Receipt for delivery and order confirmation
When you have made an order at Lofina you will receive a receipt. The binding purchase agreement will take place when you receive and order confirmation. We accept no liability for errors or goods that are sold out.
14 days cancellation
As a customer you have 14 days cancellation, when buying goods on the Internet. The cancellation expires 14 days after you have received your goods. If the 14 days expires on a public holiday, it will be extended by the next working day. You cannot use the product in these 14 days, only try it and decide whether you want it or not. You need to, one way or another, let us know if you want to cancel or change your buy within these 14 days.
Return of goods
If you wish to return your good, you need to send it to:
Lofina ApS
Volden 12
8000 Aarhus C
Denmark
When you return the goods you need to make sure the goods are wrapped safely and are in original packaging. You have the full responsibility until we receive the goods.
Therefore we recommend that you are saving the track and trace number.
When you are sending your goods back, you are paying for the return. Make sure you return the goods within the 14 days of cancellation, or we will not accept the goods.You will be asked to fill out the return form and send with the package.
Refund of the payment
We will not make the refund of the payment until we have received the good, unless you have given documentation. And again you will need to return the product in original package.
The payment will be returned to same credit card as you used when buying the product.
Please be aware!
You can loose the right to return the product if:
You have used the product
The original package is damaged
The original package is used as shipping package
The product is damaged
You have not followed the rules of the 14 days cancellation.
Complaint – if there should be a problem with the product
As a costumer at Lofina you have 24-month complaint right. If a product in any way is inadequate it is possible to get it fixed, changed, returned to payment or a discount depending on the situation.
The complaint off cause needs to be rightful, and that the inadequate did not appear because of a wrong way of using the product.
The complaint should happen within "fair time".
When the inadequate has appeared you need to make the complaint within "fair time". We recommend you make your complaint as fast as possible and within 2 month after the error has appeared.
Please describe for us in as many details as possible what had happened and what the inadequate is.
Please contact us via mail using info@lofina.dk or call us using +45 86120060.
If you are ask to send us the product please send it to:
Lofina ApS
Volden 12
8000 Aarhus C
Denmark
If we find the complaint rightful, we will return a fair amount for the shipping costs. If not you will have the responsibility for the costs and we can we can require an amount of 250 kr. (Danish crones) for examine the product. Remember that the product should be send in sound packaging and with a receipt. Until we receive the product you have the responsibility. Therefore we recommend that you safe the receipt at the post office and the track and trace number.
Personal data
For making an order at www.lofina.dk you have to inform us:
Name
Address
E-mail
Telephone number
We will safe these data together with the information about which product you have bought in 5 years. After this time we will delete these data.If you have made a login we will not delete these data unless you tell us to.
These data will not be shown to people without interested unless disposal of the company find place. We will always act through the Danish law about personal data. If you have any questions about this matter contact us via e-mail info@lofina.dk.
Complaint
If you have any complaints about your buy, please consult the shop where you made your buy Lofina Aarhus (+45 86120060) or Lofina Copenhagen (+45 33363311). If you made a buy on the web shop write an e-mail via info@lofina.dk.

Cookies
By using www.lofina.dk you accept that we use cookies. A cookie is a small data file we place in your computer so we can follow what happens when you enter our web shop. A cookie is a program not a virus.
Law
Buying any products at www.lofina.dk is controlled by the Danish law.